Donors Appreciated
We are very fortunate to receive tremendous support from community donors.  Thanks to everyone who embraces our mission and supports us as we support families uprooted by mental illness/brain disorders.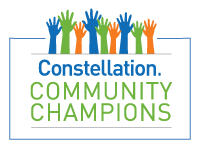 Constellation Community Support
Through Constellation's Community Champions program, our customers can apply for small grants (up to $500) from Constellation for causes that are important to their community. Preferred consideration will be given to those requests where the project, organization, or initiative focuses on education, environment, or youth.
CHNA15 Collaborating to Build Healthier Communities
CHNA 15 is a partnership between the Massachusetts Department of Public Health, hospitals, service agencies, schools, businesses, boards of health, non-profit organizations and citizens working together to improve the health of member communities.  CHNA 15