Donors Appreciated
We are very fortunate to receive tremendous support from community donors.  Thanks to everyone who embraces our mission and supports us as we support families uprooted by mental illness/brain disorders.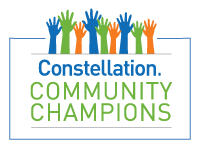 Constellation Community Support
Through Constellation's Community Champions program, our customers can apply for small grants (up to $500) from Constellation for causes that are important to their community. Preferred consideration will be given to those requests where the project, organization, or initiative focuses on education, environment, or youth.
CHNA15 Collaborating to Build Healthier Communities
CHNA 15 is a partnership between the Massachusetts Department of Public Health, hospitals, service agencies, schools, businesses, boards of health, non-profit organizations and citizens working together to improve the health of member communities.  CHNA 15
The Windbrook Fund
They have been submitting grants to assist Grow a Strong Family in its mission to offer families uprooted by mental illnesses/brain disorders to have the information and support they need.
Bare Sole Yoga Studio
Nadia is an experienced E-RYT 500 hour registered professional Kripalu Yoga Instructor, a certified C-IAYT yoga therapist with more than 4000 teaching and client hours, and a life long student of yoga. Having studied meditation and eastern philosophy from an early age, she became, 24 years ago, deeply committed to the practice of Kripalu Yoga postures, meditation, breath and self-inquiry under the guidance of beloved senior Kripalu Yoga teacher Shobhan Richard Faulds. Some of her teachers over the years include: Yoganand Michael Carroll, Amy Weintraub, Judith Lasater, Nischala Joy Devi, Regine Carr, Priti Robyn Ross, Sudhir Jonathan Foust, Sudha Carolyn Lundeen, Anodea Judith and Adyashanti.
Through her generosity and yoga fundraisers for Grow a Strong Family, she has raised money in addition to being an exceptional referral partner.
C2 Networking Group
This is a group of entreupenurs who share their strength, hope, and experience in building quality community companies that meet the needs of consumers.  They have made donations individually and as an organization to support the growth of Grow a Strong Family.  In gratitude to their vision, we say, "Thank you."